Nelo 550 Surfski

Length: 18′
Width: 17.94"
Weight: 22-26.5lbs depending on layup
Ideal Paddler Range: 150lbs to 250lbs
The new Nelo 550 Surfski is the newest evolution of surf ski from Nelo with unparalleled speed for stability. The first thing you will notice is the relatively short total length in comparison to the other Elite level Surf Ski's on the market. This gives you easy acceleration and easier handling on a wave all while keeping the same performance you'd expect from an elite level ski. The bucket has been raised slightly giving you a racing position where your heels are truly lower than your bottom. This adds comfort and leg drive ability. The amount of hump under your knees has been reduced allowing easier draining of the bucket after swamping.  With an extremely easy to use and effective bailer system paired with an ever adjustable footboard you are about to experience a truly modernized Ocean and Flat water racing machine for intermediate to advanced paddlers.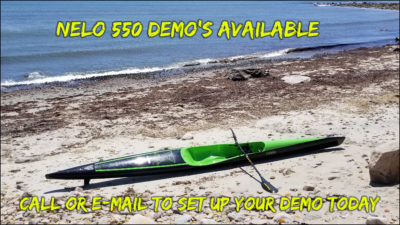 To set up a test paddle of the Nelo 550 Surfski or any other Nelo surfski's call or e-mail us at 239-734-0144 or paddlesportsofnaples@gmail.com and get yourself in the Nelo of your dreams today!
The # 4 Layup – 24-26.5lbs –  $3495
Carbon/Kevlar Epoxy Vacuum
This construction is designed for river descent, marathon training and sea kayaking. Its main characteristics are stiffness and impact resistance. This combination of fabrics offers a superb weight to durability ratio at an excellent price point.
The #7 Layup – 22-24lbs – $4395
Carbon Epoxy Vacuum
This construction allows Nelo to produce boats as solid as composites can be using the latest technologies. It has an extreme performance level due to its extreme stiffness. This full carbon layup offers extremely light weight builds with the utmost stiffness. These come in at a very competitive price range in comparison to other Elite skis.
All ski's include:
– 1 Ocean Rudder and 1 Flat Water Rudder
– 1 Wave Deflector
– 1 Waterproof Cellphone Case
– Magnus De Brito Designed Bailer System