Stellar Intrepid LV Kayak

The new Stellar Intrepid SILV is a British style sea kayak with a hint of Greenland in it. The fully outfitted expedition kayak has 3 hatches, a retractable Kajak Sport skeg, deck lines, bungee and sealed bulkheads. Sized for the smaller to mid-sized paddler, the cockpit, seat and thigh braces are optimized to increase comfort and performance. The hull, with hard chines and some rocker, allows for play in surf, races and rock gardens while the defined keel combined with modified water lines has increased the efficiency of the hull making a smooth paddling kayak that edges nicely. There is plenty of storage for multi-day trips and an integrated rudder tube for those that prefer using a rudder.
Length:
16′ 10″ / 5.14m
Beam:
20.9″ / 53.2cm
Depth:
11.8″/ 30cm
Paddler:
5′ – 6′ 2" / 1.5-1.87m
Capacity: 245lbs / 110kg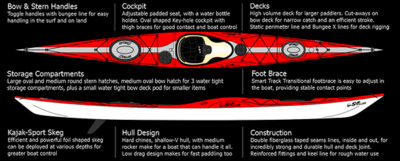 Advantage Layup
Weight: 43 lbs / 19.5kg
Price: $3,595
Description: Great combination of weight, stiffness, durability and cost. Gelcoat finished heat cured infused epoxy Fiberglass and Soric® core laminate is very tough and resists against punctures. A great race boat on a tight budget. The Advantage hits the mark for price to weight ratio for most kayak paddlers.
Excel Layup
Weight: 40.3 lbs / 18.3kg
Price: $4,495
Description: Very stiff and light, yet more affordable than the Ultra. Kevlar® adds impact strength to the laminate – Gelcoat finished heat cured epoxy Kevlar® and Fiberglass laminate with Nomex® Honeycomb Core. Great for racing, or those looking for a light boat, but not ideal for shallow water paddling.

Ultra Layup
Weight: 40.3 lbs / 18.3kg
Price: $5,995
Description: Extremely stiff and light – The ultimate paddling machine that is also easy to move off of the water. Clear finished, heat cured epoxy woven Toray 3k Carbon Fiber laminate with Nomex® Honeycomb Core.