Stellar S18S Surfski

The Stellar S18S is an 18′ entry level surf ski with great top end speed from the S18R hull design, along with the stability that you have come to associate with a Stellar. With 2 dry storage compartments, the S18S is not only a Surf Ski, but also a capable touring kayak. We have added cockpit carry handles to make maneuvering this boat on land as easy as it is on the water! As a standard feature, the S18S is outfitted to accept a kick-up rudder for those who paddle in shallow areas. The S18S also meets the specifications for the USCA Fast Sea Kayak division if you wish to race.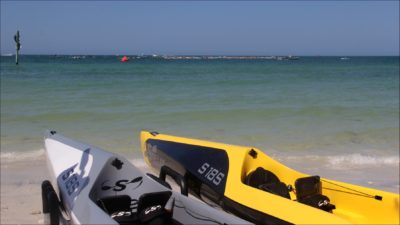 Length:
18′ / 5.5m
Beam:
21″ / 53.3cm
Depth:
14.2″ / 36cm
Paddler:
5′-6'6″ / 1.5-2m
Capacity: 320 lbs / 145kg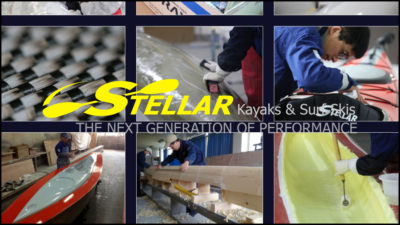 Advantage Layup
Weight: 39.2 lbs / 17.8kg
Price: $3,195
Description: Great combination of weight, stiffness, durability and cost. Gelcoat finished heat cured infused epoxy Fiberglass and Soric® core laminate is very tough and resists against punctures. A great race boat on a tight budget. The Advantage hits the mark for price to weight ratio for most kayak paddlers.


Multi Sport Layup
Weight: 35.3 lbs / 16 kg
Price: $3,495
Description: Single skin laminate hull made of Carbon & Kevlar® fabric, with clear gelcoat finish, and the deck is the standard Advantage construction. The hull is designed to be flexible and durable, but creates a stiff boat that can take some abuse in the class I and II rapids and shallows, but is also at home in the ocean or the flats. The Surf Ski Multi-Sport construction comes standard with an over-stern rudder and fittings for an under-stern rudder, as well as a flush mounted Andersen mini-bailer.

Excel Layup
Weight: 28.7 lbs / 13 kg
Price: $4,295
Description: Very stiff and light, yet more affordable than the Ultra. Kevlar® adds impact strength to the laminate – Gelcoat finished heat cured epoxy Kevlar® and Fiberglass laminate with Nomex® Honeycomb Core. Great for racing, or those looking for a light Surf Ski, but not ideal for shallow water paddling.


Ultra Layup
Weight: 27.6 lbs / 12.5 kg
Price: $5,195
Description: Extremely stiff and light – The ultimate paddling machine that is also easy to move off of the water. Clear finished, heat cured epoxy woven Toray 3k Carbon Fiber laminate with Nomex® Honeycomb Core.