Stellar SEA Surfski

The all new Stellar Elite Assassin (SEA) has raised the bar in the Stellar Elite Series. Designed from the ground with elite and advanced paddlers in mind, paying tribute to the original Elite skis, but modernizing some features to increase comfort and performance. The bow has the narrowest waterline profile in the Stellar line. The bow deck has been refined to shed water more actively and keep the Ski on the surface. The waterline length has been increased by plumbing, narrowing and changing the rocker profile of the bow compared to other Stellar skis. As an advanced paddlers Ski the depth of the cockpit and the freeboard behind the cockpit have been increased to provide a drier ride. Stern rocker profile and shape has been modified to increase control and maneuverability whilst surfing or tight turns. The rudder has been moved forward to improve functionality and performance in different conditions. The CofG (cockpit) has been moved forward allowing for a tighter catch, compared to other Stellar Elite skis, linking runs has never been so easy. The new ergonomics of the seat reduces chaffing points for hours of comfortable paddling.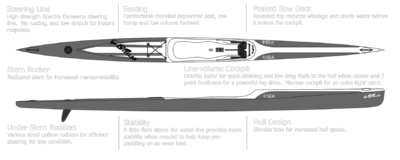 Length: 20′ 4″ / 6.195 m
Beam: 16.3″ / 41.4 cm
Depth:
13.8″ / 35.1 cm
Paddler:
5′-6'3″ / 1.5-1.9m
Capacity:
210 lbs / 95 kg
Multi Sport Layup
Weight: 34.8 lbs / 15.8 kg 
Price: $3,495
Description: Single skin laminate hull made of Carbon & Kevlar® fabric, with clear gelcoat finish, and the deck is the standard Advantage construction. The hull is designed to be flexible and durable, but creates a stiff boat that can take some abuse in the class I and II rapids and shallows, but is also at home in the ocean or the flats. The Surf Ski Multi-Sport construction comes standard with an over-stern rudder and fittings for an under-stern rudder, as well as a flush mounted Andersen mini-bailer.

Excel Layup
Weight: 26 lbs / 11.8 kg 
Price: $4,295
Description: Very stiff and light, yet more affordable than the Ultra. Kevlar® adds impact strength to the laminate – Gelcoat finished heat cured epoxy Kevlar® and Fiberglass laminate with Nomex® Honeycomb Core. Great for racing, or those looking for a light surfski, but not ideal for shallow water paddling.

Ultra Layup
Weight: 24 lbs / 10.9 kg 
Price: $5,295
Description: Extremely stiff and light – The ultimate paddling machine that is also easy to move off of the water. Clear finished, heat cured epoxy woven Toray 3k Carbon Fiber laminate with Nomex® Honeycomb Core.