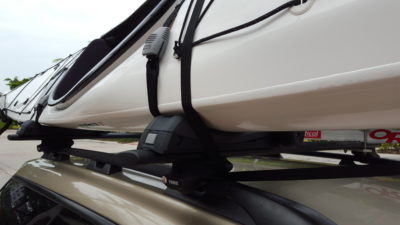 There is nothing quite like the look of a well polished composite kayak. Do you have a slightly or horribly neglected kayak you want to bring back to life? Need to replace your old bungee or deckline? Have a hatch cover that has disintegrated on you? These are all things that can be redone to get you back in the boat you always loved. Aside from parts, Paddlesports of Naples specializes in deck and hull refinishing. Anything from lightly faded to heavily oxidized there is almost always a way to make your boat look better. Dual Action Sanders in addition to Random Orbital Buffers are just some of the tools of the trade to get your kayak looking good again. We use a variety of top quality Buffing and Waxing compounds from 3M®, Meguiar's® and NuFinish®. The equipment we use is chosen specifically to provide a professional quality finish.
Naples, Florida can be harsh on the gel coat of your composite kayak from sun exposure most of the year. If you're kayak is not stored in doors, under a roof or in a bag chances are you will need to apply wax multiple times per year. Bring your boat in or have it picked up for a simple Wax and Polish. This prolongs the lifespan of your boat in addition to adding some luster while doing so.
Service for kayak refurbishment work runs $55/hour plus materials (if any).
Check out an example of a Sea Kayak refurbishment on a Necky Chatham 16 below: