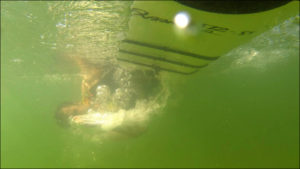 Rolling a kayak is the quickest and most effective recovery maneuver there is. With the right technique rolling is something that can become nearly effortless inspiring the confidence to be able to paddle in more challenging conditions in remote locations. If nothing else it's a great way to cool off in the summer or most other days of the year here in Southwest Florida. Learning the right fundamentals the right way can make the process of developing your roll much easier. This also allows you to progress through various styles of the roll down the road. Kayak rolling lessons are done year round in the Naples area. Learn the Eskimo Roll today!

Intro to Kayak Rolling Lessons – 1.5 to 2 Hours – $70 per person
This is a class for people who have never rolled before or have started to roll but have not got their solid roll yet. Focus on body mechanics and setting the correct fundamentals to take into all styles of kayak rolling. Some people like to bring a cheap diving mask to their first lesson as a decent amount of time is spent underwater in various positions, nose plugs are another option. If you are comfortable underwater, you will be comfortable here. There are no prerequisites for this course, no one too young or too old.
Things to know for the class:
Your class will be taught by Students should plan on bringing a snack and a few liters of water for the course. The weather in Naples, Florida is generally warm and sunny most days of the year. Cold fronts do move through throughout the Fall, Winter and Spring and heavy rain with wind rolls through in Summer storms. Dress for immersion and plan to have adequate sun-protection including a hat as well as sunglasses.
Equipment required for the class:
A touring or sea kayak with bulkheads or floatbags is required as well as a spray skirt, PFD and double bladed paddle. Additionally, you will need a Paddle Float, preferably inflatable. Anything you do not have can be provided for you with advanced notice.

Advanced Kayak Rolling Lessons – 2 Hours – $70 per person
This is a lesson for people who already have a solid roll and can hit it 90% of the time. Great if you are looking to learn to roll on your off side or progress to a forward finishing rolls. If you are interested in learning specific Greenland Style rolls this is the class for you. Our instructor, Jay Rose, specializes in Greenland Rolling and sills. He can help people move from a solid standard roll through a variety of the rolls on the Greenland Rolling Championship list. Here are some of the rolls as well as techniques that can be worked on.
Side Sculling (Layback)
Chest Sculling (Forward)
Standard Roll (Layback)
Elbow Crook Roll (Layback)
Storm Roll (Forward)
Reverse Sweep Roll (Forward)
Butterfly Roll (Layback)
Shotgun/Armpit Roll (Layback)
Behind the Head Roll (Layback)
Spine Roll (Layback)
Norsaq Rolls (Layback and Forward)
Hand Roll (Layback and Forward)