Stellar S14 Kayak

When designing the Stellar 14′ (S14) Touring Kayak, we wanted to have a boat that was efficient through the water, yet stable. Unlike any other boat of this length, the S14 has the speed of a much longer boat, but beginners can feel comfortable paddling it. Two water tight hatches allow for ample storage for day and overnight trips, while the retractable skeg in the stern helps with tracking. The S14 comes standard with fittings to upgrade to a rudder steered boat as well. Its short length and light weight make it ideal for those who want a high performance boat, but are short on storage space or frequently car-top their boat.
Length:
14′ 4″/ 4.36 m
Beam:
23.6″/ 59.9 cm
Depth:
13.6″ / 34.5 cm
Paddler:
5′ – 6'6" / 1.5-2m
Capacity: 340 lbs / 155kg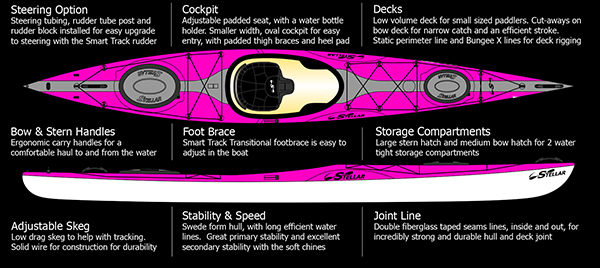 Advantage Layup
Weight: 36.4 lbs / 16.5kg
Price: $2,695
Description: Great combination of weight, stiffness, durability and cost. Gelcoat finished heat cured infused epoxy Fiberglass and Soric® core laminate is very tough and resists against punctures. A great race boat on a tight budget. The Advantage hits the mark for price to weight ratio for most kayak paddlers.
Excel Layup
Weight: 34.2 lbs / 15.5kg
Price: $3,195
Description: Very stiff and light, yet more affordable than the Ultra. Kevlar® adds impact strength to the laminate – Gelcoat finished heat cured epoxy Kevlar® and Fiberglass laminate with Nomex® Honeycomb Core. Great for racing, or those looking for a light boat, but not ideal for shallow water paddling.
Ultra Layup
Weight: 33.7 lbs / 14.4kg
Price: $4,895
Description: Extremely stiff and light – The ultimate paddling machine that is also easy to move off of the water. Clear finished, heat cured epoxy woven Toray 3k Carbon Fiber laminate with Nomex® Honeycomb Core.